NOTE : a new article follows this one:
How to heal his calf contractures made running
I would like to share with you, fellow runners, this excellent article from HealthSport Magazine: "Calf Slam Auto-Rehabilitation". It's not for nothing, because Sunday, without getting to the breakdown, I still hurt. And this article will have frankly enlightened me on the reasons and given a path to prevention. I was talking last night with the chairman of the local french gymnastic committee after a meeting, and we agreed that 10 riders = 10 tips = 10 training methods. So, take the following of this article as my only reading and keep what you want.
My history
I injured my left calf for the first time during the preparation of the marathon of Toulouse metropolis in September 2012. I chained the long outings, without pushing too much cardio and that day, I run very slowly with a beginner colleague. A "recovery" in sum … While I was little over 100 bpm cardio, I felt a tip to the calf. I walk back and decide to leave "test this". 600 m further: CLONG !! Fatal …. The radio has "shown something" but nothing obvious. In any case, not a breakdown. A month of rest and a slight recovery still allowed me to run the marathon (3:46 for my first).

Last year, once again during the preparation of the one of October 2013, that of my forty years. Same motive (or almost), in any case: same punishment for the right calf this time. The doctor even laughed because I came for the same thing to almost a year day to day interval … The month of rest needed and especially a wonderful trip to New York will not have allowed me to be late ready to run it … too bad …
Sunday, after a quick race the day before in the heat, I went out with my lady and a friend in the hills by my home. After the first side swallowed without difficulty, in the very gentle descent that followed, I peaked at 110 bpm. And there, return of the small peak of pain in the left calf (the 1st). I stopped and walked to the house. This reaction will have spared me no more big injury I think … even if I limp since …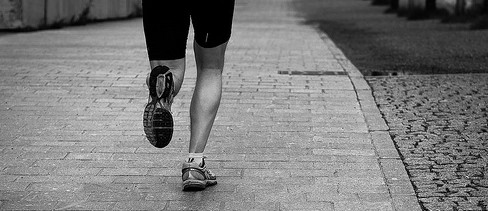 My reading of the causes
I started looking for answers and the article I quoted: "Calf Calf Self-rehabilitation" will have me particularly enlightened.
My conclusions are that running slowly, in the middle of a tiring work of real estate for the muscles is the main cause of my injuries. Indeed, the slow stroke tends to do more work the calf in restraint and "spring effect". That's how I interpret and feel it. It is therefore likely that it generates more internal tensions, in the opposite direction, shears capable of tearing the fascia of a previously fatigued muscle that a more tonic race where the muscle remains more contracted (and therefore maintained). The last injury, in quiet descent and therefore very restrained, confirms this impression.
And so ?
Here is what I conclude and will try to put in place. I do it again an article to testify of the good utility.
This is a personal opinion but, you may be able to find things that will help you too
Avoid too slow exits if the muscle is tired from a previous fast or very long exit
In recovery of a race, or during runnings "of the juice" that precedes it, keep a pace of race consequent.
have a systematic stretching of the knurls (see article). Too bad for the rest, but at least the calves
Run (and not "suffer") the descents
Drink (more) water
Respect rest days (…) and listen to the fatigue
Big Outing > Protein shaker for muscle nutrition
It may seem stupid, but, I currently do not respect any of these rules. So, even if it seems common sense and obvious, we must do a little (more) violence to respect everything.
By cons, to help me, I found a really essential device :
How to heal his calf contractures made running
Photo credit : Hans-Jörg Aleff – https://www.flickr.com/photos/ffela/14022278008 (creative common licence)