Camera body

Order date: november 2017
Reseller: eGlobalCentral.fr Kit version including the XF 18-55mm lens (1014€ then).
A post "thougts/test" should be available soon regarding this case..
Lenses
Fujinon XF 18-55mm f/2.8-4 R LM OIS
Fujinon XF 35mm f/1.4 R
Fujinon XF 27mm f/2.8
Fujinon XC 50-230mm f/4.5-6.7 OIS II
Samyang 12mm f/2.0 NCS CS
Samyang 50mm f/1.2 AS UMC CS
Accessories
Flash Godox Ving V860II
I came across several videos about flash and, for those cheap, the brand Godox, found at AliExpress for € 208. The Godox Ving V860II package, which includes the transmitter, offers the best: TTL, HSS, 1/8000, SpeedLite 2.4Ghz and includes the X1T transmitter. It is also available, all by itself for at amazon but you have to add the transmitter.
Here are 2 videos : https://www.youtube.com/watch?v=SoiGDYkLCO4 and https://www.youtube.com/watch?v=xgw4DFP2C50
Bagues macro JCC 11mm et 16mm
In replacement of those of Fujifilm which are at a price ….. exorbitant, this set contains 2 rings of 11mm and 16mm for a very reasonable price for my use since they are at amazon
Battery and charger pack
History to be able to leave serene and not to risk the lack of battery, this pack is precious because, besides the particularly attractive price, it makes it possible to have also a double charger with USB connection. Found at Amazon. You can read the article I wrote about this pack.
Straps Hyperion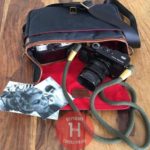 I bought two cords on the site HyperionCameraStraps: a gray / black choker with black links and another, dark gray always with black links, just wrist.
I will tell you more when I have received them and will change on this occasion the image of illustration opposite by a catch by me.