My gear
A quick show-of of the shooting gear I'm currently using. Each lens leads to its own dedicated webpage; exposing my thoughts and a gallery of the pictures I tool with.
I've just added a  "Wish-list" that lists my 'mostly probable" future orders in the photography theme and the reasons that lead me to..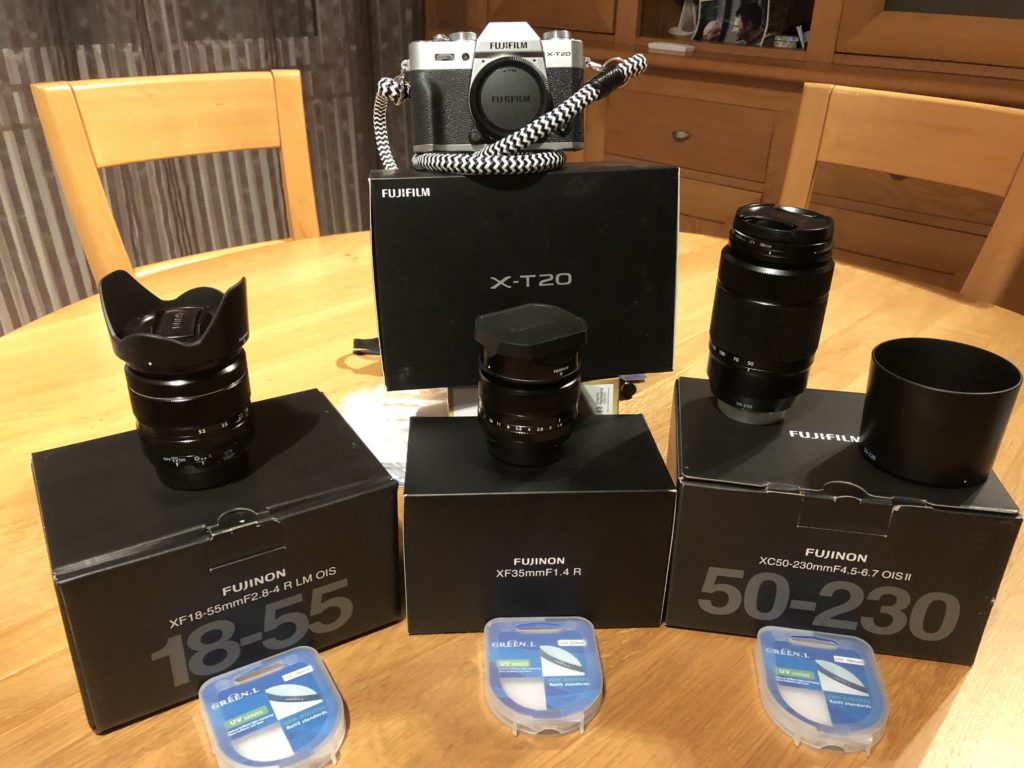 Camera case

Order date: november 2017
Reseller: eGlobalCentral.fr Kit version including the XF 18-55mm lens (1014€ then).
A post "thougts/test" should be available soon regarding this case..
Lenses
Each link below links to an introductory page of each goal and a gallery of my favorite photos taken with them.
Fujinon XF 18-55mm f/2.8-4 R LM OIS
Fujinon XF 35mm f/1.4 R
Fujinon XC 50-230mm F4.5-6.7 OIS II
Samyang 12mm F/2.0 NCS CS
Other gear
Dji Mavic Air (combo fly more)
A little drone to accompany my photo and hiking trips. Dji Mavic Air, Fly more combo pack. More to read on its  dedicated post !
SAC LOWEPRO SLINGSHOT 250 AW
Sac Lowepro Slingshot Edge 250 AW.
It will also be the theme of a complete test post.
It is available
EUR 79,00 @ Amazon. This is where I ordered it.
UN LIEN D'ÉPAULES BLACKRAPID
History to walk alert without putting the weight too long on the only neck. I took it mainly for hiking and long walks in town.
My choice fell on the BlackRapid Sport Breathe on the good advice of Sebastien. Available
EUR 78,84 @ Amazon. C'est là que je l'ai pris.
Tripod Manfrotto Pixi EVO
A very good little tripod, for table or low height. Always strapped to my Slingshot, it is very light, and table. The feet are in 2 sections. It does not ride high, but for the iPhone or FujiFilm, he does the job. As often, ordered for
EUR 34,90 @ Amazon
flash Godox Ving V860II
I came across several videos about flash and, for those cheap, the brand Godox, found at AliExpress for € 208. The Godox Ving V860II package, which includes the transmitter, offers the best: TTL, HSS, 1/8000, SpeedLite 2.4Ghz and includes the X1T transmitter. It is also available, all by itself for  
EUR 189,00 @ Amazon but you have to add
Godox X1 C émettteur TTL sans fil pour Canon EOS Séries caméras - EUR 42,00 for the transmitter.
Here are 2 videos : https://www.youtube.com/watch?v=SoiGDYkLCO4 and https://www.youtube.com/watch?v=xgw4DFP2C50
Bagues macro JCC 11mm et 16mm
In replacement of those of Fujifilm which are at a price ….. exorbitant, this set contains 2 rings of 11mm and 16mm for a very reasonable price for my use since they are at
EUR 33,99 @ Amazon
Battery and charger pack
History to be able to leave serene and not to risk the lack of battery, this pack is precious because, besides the particularly attractive price, it makes it possible to have also a double charger with USB connection. Found at
EUR 29,99 @ Amazon. Vous pouvez lire en suivant l'article que j'ai dédié à ce pack.
MICRO BOYA
A Boya BY-M1lavallier mic, with a 6meters long cable and good quality reception. 
EUR 19,95 @ Amazon
Straps Hyperion
I bought two cords on the site HyperionCameraStraps: a gray / black choker with black links and another, dark gray always with black links, just wrist.
I will tell you more when I have received them and will change on this occasion the image of illustration opposite by a catch by me.
Cheap tripod
12€ @ Bangood. It is not too bad quality … It has a level and weighs less than 700 grs for a maximum height of 1.3m. This is ample and limits the weight on the hike
Older gear
Cheap camera bag
…to troubleshoot and protect my little world a little bit. 15 € at bangood, postage included. this bag has been fully tested